CORONACAMERARENTAL.COM
Please click on the NEWS tab for the latest information on applications and products.
We have DayCor® Corona Cameras Available For Immediate Rentals!
Eklund Infrared Inc has been your OFIL DayCor® Representative since 2002!
We introduced the brand new OFIL DayCor®II UVc Solar-Blind Camera in 2002. The very beginning of Practical Daytime Detection of Electrical Corona Phenomena.
The use of the DayCor® camera has, since then, helped to find, pinpoint and eliminate damaging Corona on overhead lines and in substations troughout the US and the rest of the world.
EKLUND Infrared Inc. was the first and only Authorized Service Center in the USA for the whole line of OFIL UVc Cameras!
When you are in need of a DayCor® Camera, Please contact us for purchase or Rental. Ask us for a price quotation. Let us know the length of time of your rental. We can accommodate most long term rentals.
The DayCor® Superb™ is available for rental on a weekly basis!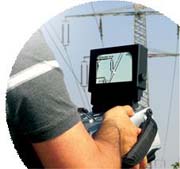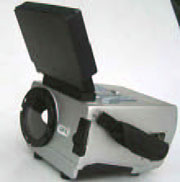 Our DayCor® Superb Rental Camera Systems
Download our Rental Camera Specifications as a PDF Document
The Solarblind Ultra Violet (UVc-band) Corona and Arcing Inspection is a Solid Detection Technology for Electric Utilities to Pinpoint High Voltage Problems. Also for use by other companies with High Voltage Applications.
It is a complementary technology to the Thermal Infrared heat detection and is superior to the Ultrasonic technologies.
Electrical Corona Detection is not dependent on the current (I) loading of a circuit or line. It detects the Corona event due to the breakdown of the High Voltage electrical field on components due to contamination, faulty insulators or missing Corona/Grading rings.
Detection of Electrical Corona, Partial Discharge and Arcing problems is one of the very important means available to improve the reliability of the Electrical Grid and its components.
Contaminated High Voltage Insulators and Bushings can lead to flash-over and downed circuits. We recommend that you use our DayCor® Superb™ UVc Corona Camera to confirm the need for washing and to prove that the wash was effective! These video clips shows a highly effective wash!
Below is shown very serious Corona Discharges on the cabling in an indoor substation. Failing insulation make this a dangerous situation!
The state-of-art DayCor® UV Corona camera is capable of detecting Electrical Corona and Arcing phenomena and pinpointing their sources under all lighting conditions, even on the brightest day. It is 100% Solarblind!
The Electrical Power Research Institute (EPRI) in the USA helped to support the development of the Ofil DayCor® UVc-Visible Bi-Spectral Imaging System.
**************************************************************
The DayCor® SUPERB UV Corona Detection Cameras are available for rental on a Daily, Weekly or long term basis.
Please call us for our rental and fee schedule.
Eklund Infrared/Eklund Innovation Inc. is a 100% American owned company. All employees are citizens of the USA. The controlling interest in Eklund Infrared/Eklund Innovation Inc. is American and is located in the USA.
---
Home Contact Us © Copyright 2000-2018 by EKLUND INFRARED. All registered Trademarks and trade names are acknowledged to be the property of their owners.