Please click on the newsletter picture below for a PDF copy of our latest 2022 Corona Camera Newsletter!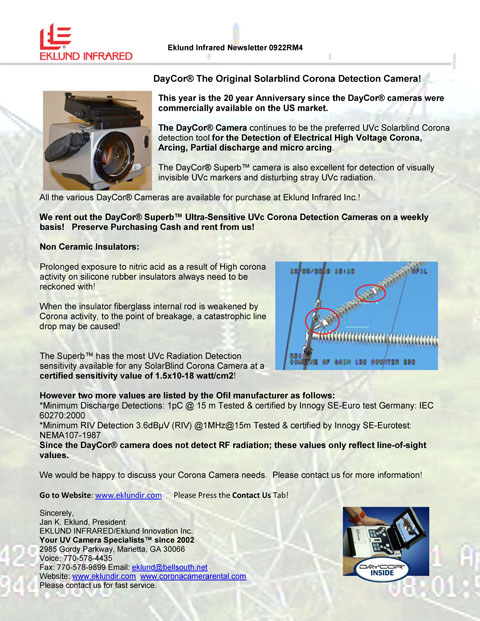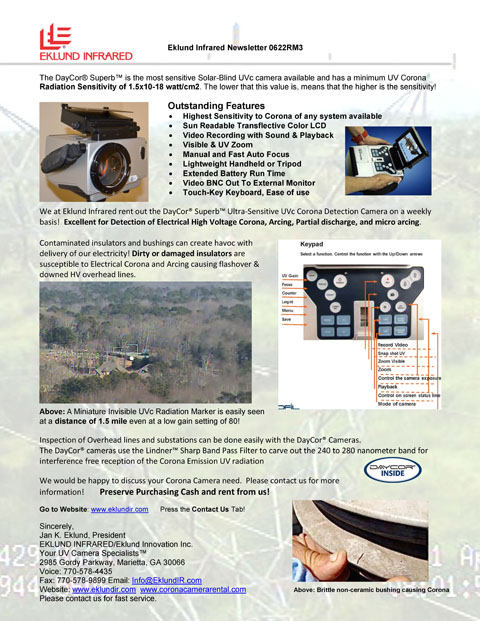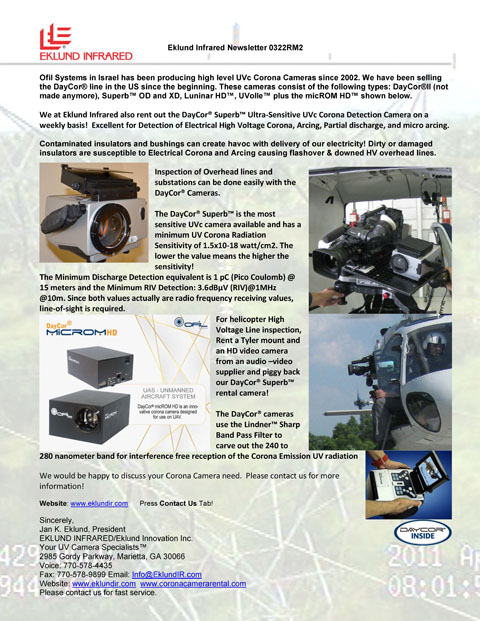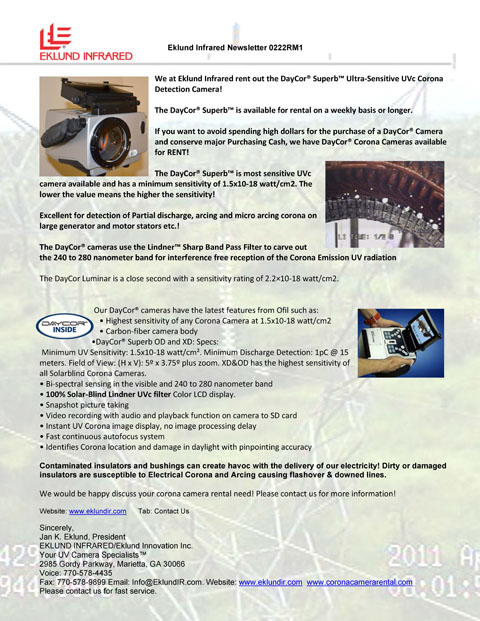 Please click on the newsletter pictures below for a PDF copy of our latest 2021 Corona Camera Newsletter!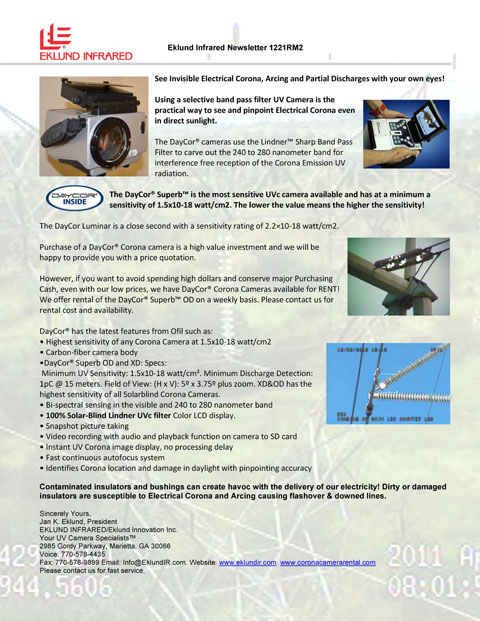 2020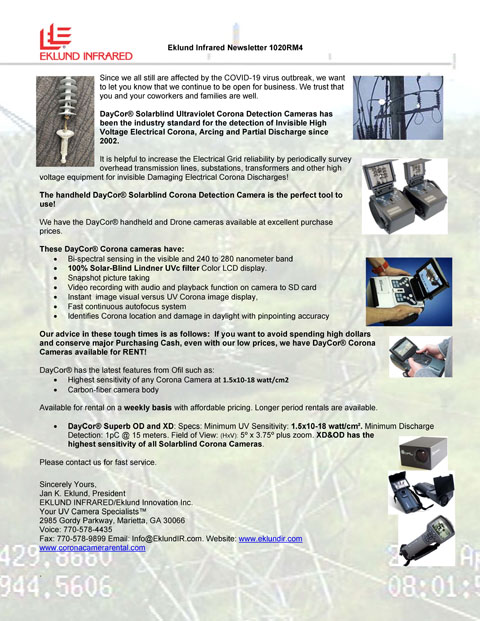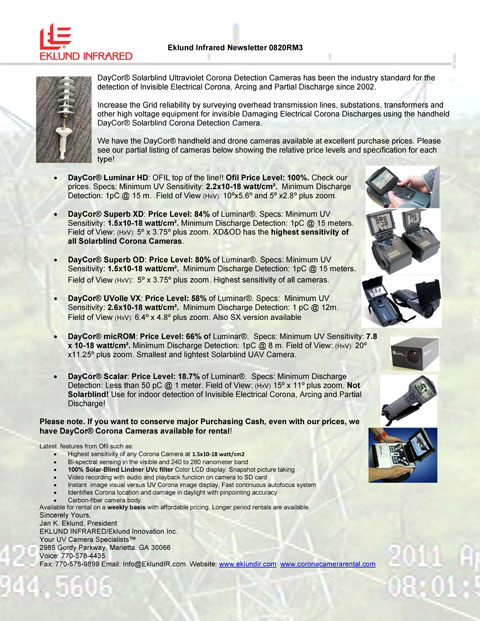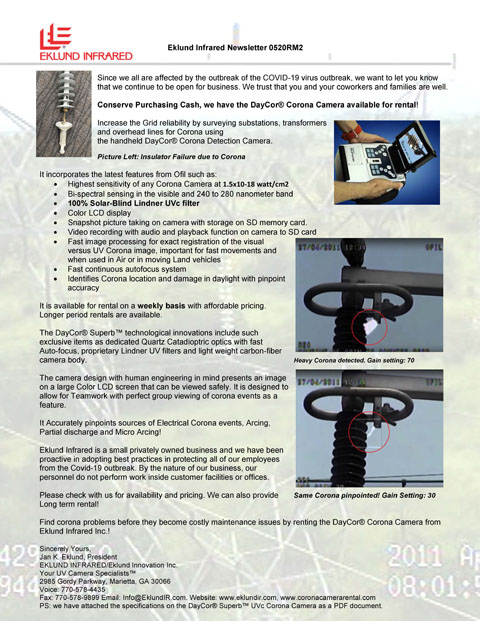 Since we all are affected by the outbreak of the COVID-19 virus outbreak, we want to let you know that we are open for business as usual. We trust that you and your coworkers and families are well and are kept from acquiring the virus.
Eklund Infrared is a very small privately owned business and we have been proactive in adopting best practices in protecting all of our employees from this outbreak. By the nature of our business, our personnel do not normally perform work inside customer facilities or offices.
We are standing by with the industry standard DayCor® 100% SolarBlind UVc Camera available for rental on short notice!
When using The DayCor® Camera you will be able to Detect and Pinpoint Electrical Corona, Arcing and Partial Discharge events with the highest accuracy and sensitivity.
Please keep in contact with us and let us know how we can help out with your Corona Camera Rental or Purchase need.
Thank You and Best Regards from the Staff at Eklund Infrared,
Sincerely, Jan K. Eklund President
Check AGA Thermovision Infrared Camera Nostalgia at the bottom of page.
The New Li-ion batteries in our Rental Camera Package now deliver up to 3.5 Hours continuous operation per battery!
Our DayCor® Rental Camera Specifications 2020 Flyer-Page is updated!
The DayCor® Superb™ uses a very High efficiency Catadioptric Broadband lens system!
This special UV glass optics together with the High Performance Lindner Solarblind UVc passband filter and the high sensitivity high resolution detection system makes the DayCor® Superb™ the highest sensitivity Solarblind camera available.
Please click on the newsletter picture below for a PDF copy of our latest 2020 Corona Camera Newsletter!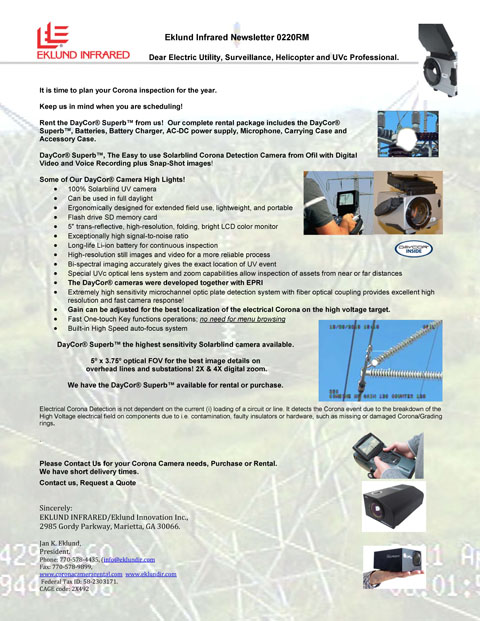 2019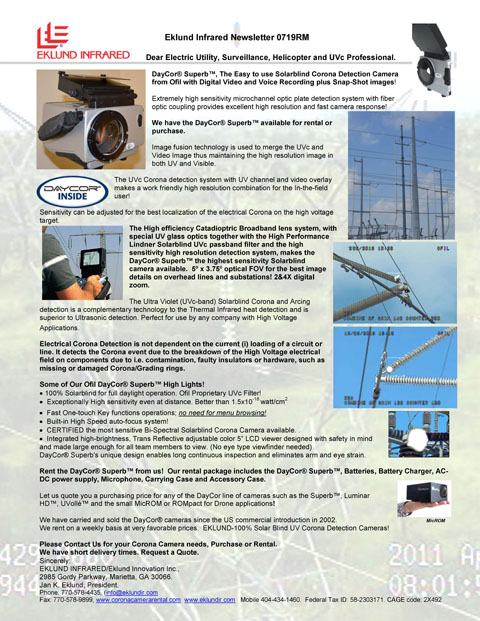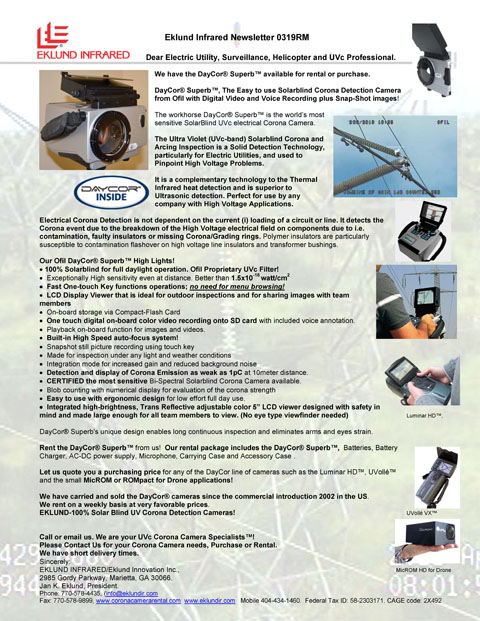 2018 and earlier are available below!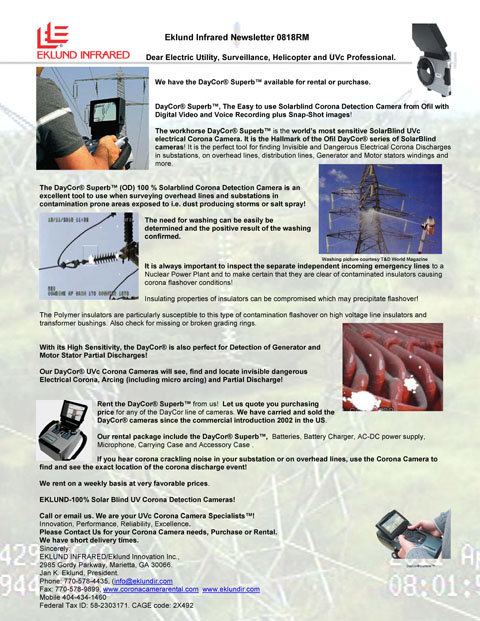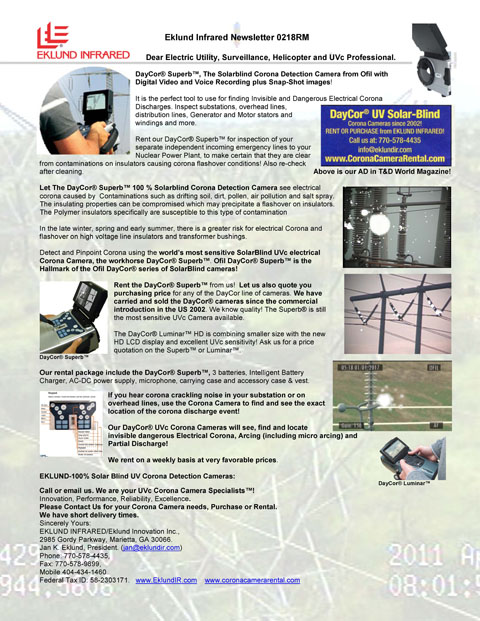 2017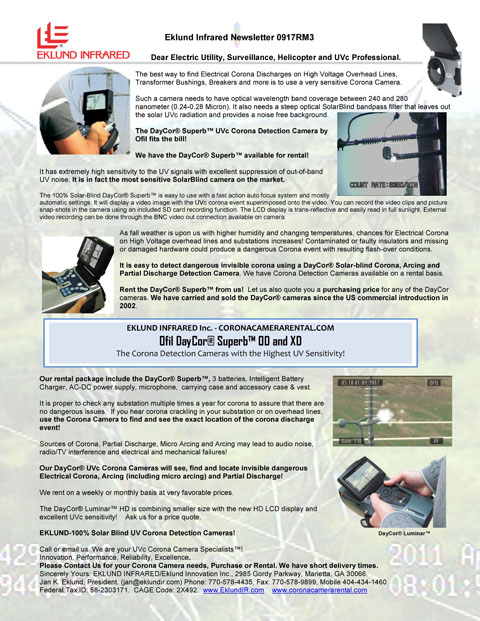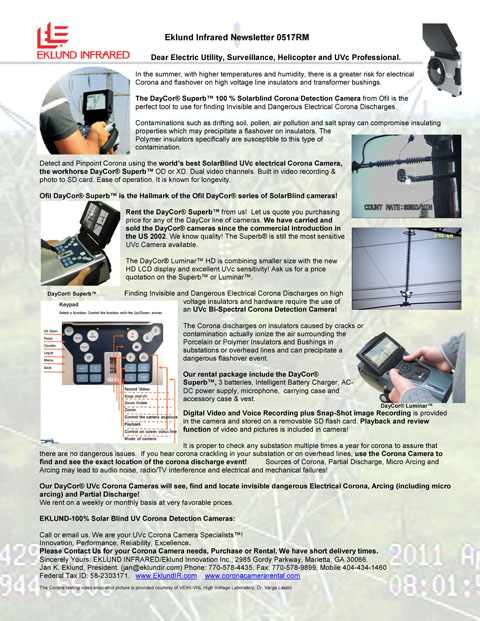 Eklund Infrared is your Representative for the Solar-Blind DayCor® Corona Camera line from OFIL Ltd. Please contact us for price and delivery on DayCor® UVc Solarblind Corona Detection Cameras.
We at EKLUND are representing Ofil since 2002 and have a vast experience in Electrical Corona Detection.
For our Rental Customers, we are your supplier of the DayCor® Corona Rental Cameras. We provide rental cameras on a weekly basis. Longer rental periods are available!
We can provide daily rentals for our customers in the general Atlanta, GA Area.
Please contact us for pricing and availability!
The DayCor® Superb™, the OFIL Flagship Camera, is one of the most popular Corona Cameras ever.
Purchase any the OFIL DayCor® Corona Cameras, including the Luminar™HD, Superb™OD/XD and UVolle-SX/VX, from us.
Contact us for the latest on the Drone Cameras, DayCor® micROM and DayCor® ROMpact!
Ask us for a current Price Quotation for any of our cameras FOB your destination! Our Prices are Very Competitive!
Check with us for more information on the new Ofil Reporting software "CoronaWise"!
Please click on the newsletter pictures below for a PDF copy of our 2016 Corona Camera Newsletter!
Below: IEEE-PES 2006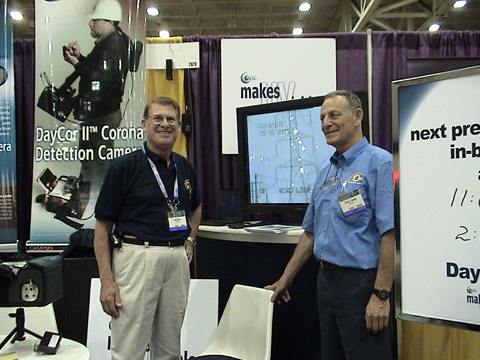 Above: Jan Eklund and OFIL Company Co-Founder Dr. Pinhas Lindner at IEEE PES Exhibit, 2006, Dallas Texas!
Eklund Infrared has been your US representative for SweSystem since 2007.
SWE400 Triple Gimbal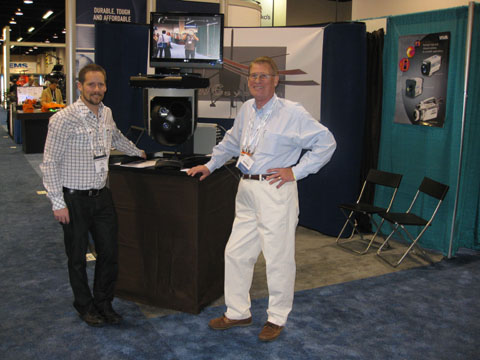 Daniel Johanson (left) and Jan Eklund at the Booth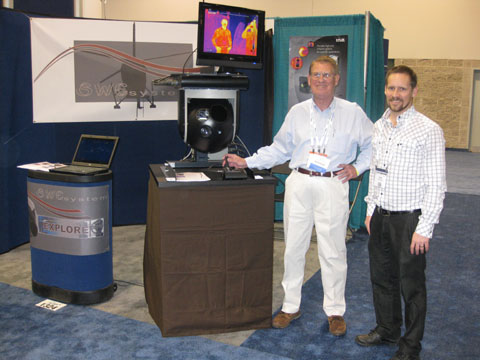 SWE400 Triple Thermal Infrared Channel Presentation


The Beginning of Live Presentation Thermal Infrared Cameras in the US!

Please click on the newsletter picture below for a PDF copy of some INFRARED Camera nostalgia from the time the AGA Thermovision® Infrared Cameras were introduced to the world and to the USA in particular! A new very important Era in Infrared Technology was started and it changed the whole world of infrared Imaging and Measurements forever!
Below is a reprint from R&D Magazine 1975 with explanation of the AGA Thermovision Thermal Infrared Cameras and its current state of the art applications of IR imaging. This is years before FLIR Systems started. Click on the image to open the PDF document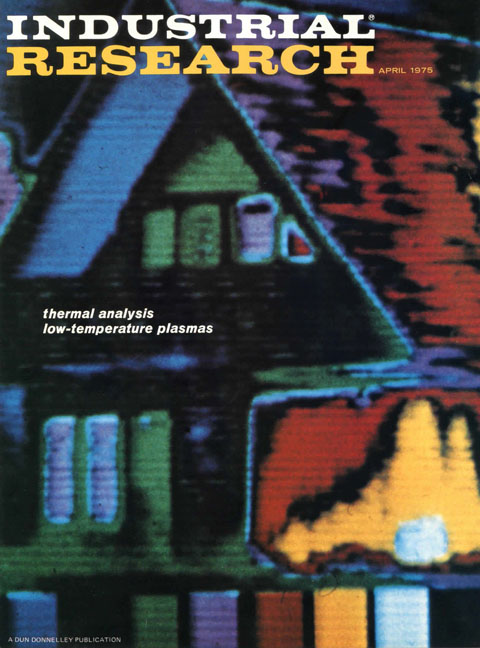 Description of the TE cooled MCT SPRITE detector system and the highly efficient reflactive scanning system employed in the 1986 new Agema Thermovision 870 and 470 line of Thermal Infrared Cameras. Click on the Electronic Imaging '86 front page picture below to access the PDF copy.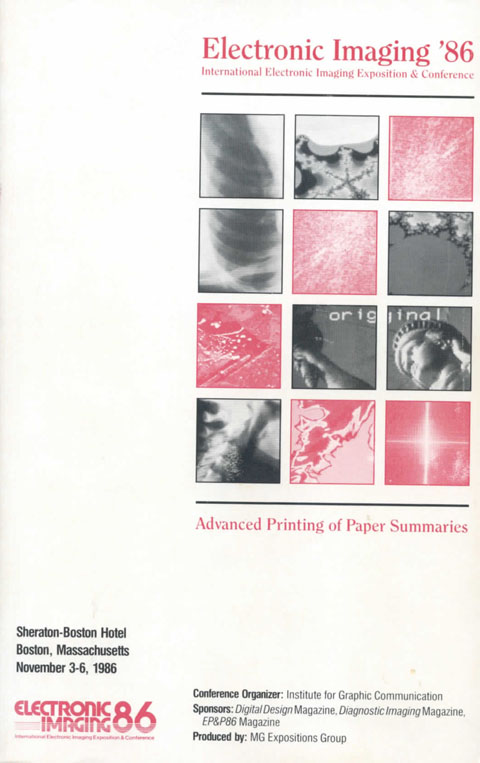 The following IEEE presentation was made on February 2nd, 1993 in Austin, TX. USA It is a Tutorial attempting to describe the then current status of Infrared Radiometrically Calibrated Thermal Imaging Systems and the technology behind these new, in current production, practical concepts! The parts covering the explanation of Infrared Radiation and its Wavelength Bands may be of interest to review at this more modern time and is still valid!
Click on the IEEE presentation front page picture below to access the PDF copy.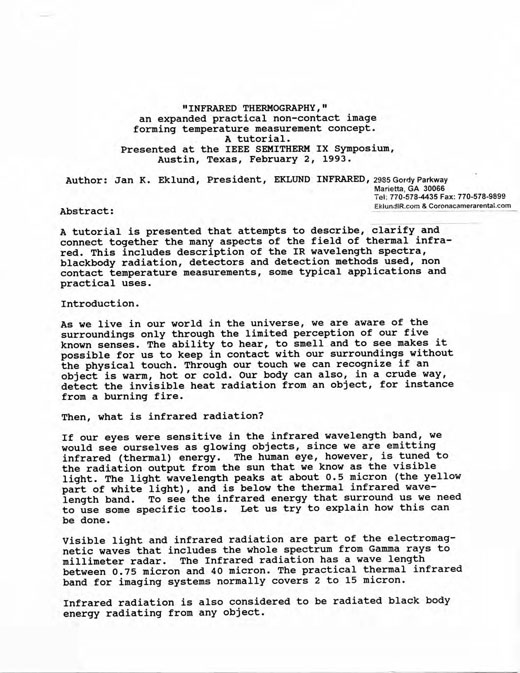 The following PDF Copy covers AGA Corporation's Steel Proceedings from Pitttsburgh PA 1975 Seminar About Thermal Infrared Camera Technology use within the Steel Industry. Jan K. Eklund Editor. PDF Copy. Large File!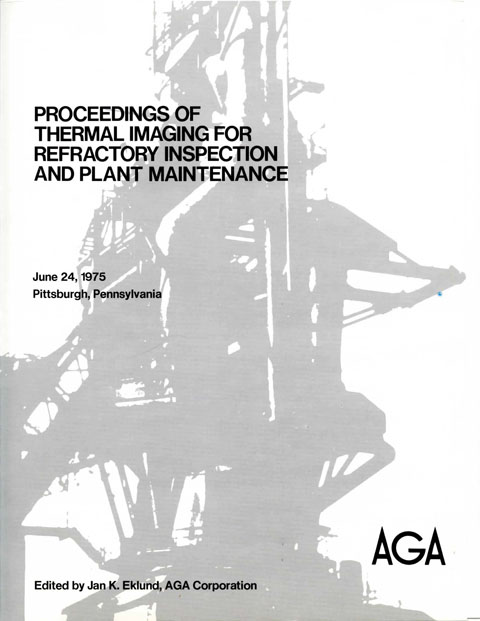 Eklund Infrared/Eklund Innovation Inc. is a 100% American owned company. All employees are citizens of the USA. The controlling interest in Eklund Infrared/Eklund Innovation Inc. is American and is located in the USA.
---
Home Contact Us © Copyright 1999-2022 by EKLUND INFRARED. All registered Trademarks and trade names are acknowledged to be the property of their owners.